Covid-19 vaccination status student survey results are out
Posted on behalf of: Internal Communications
Last updated: Friday, 21 January 2022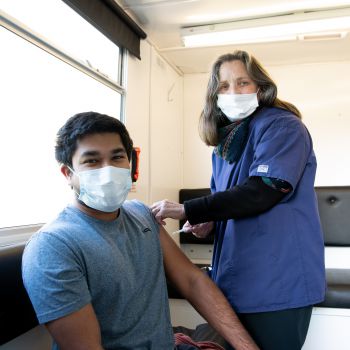 More than 7,000 students took part in the Covid-19 vaccination status survey that closed on Wednesday 19 January.
Results showed that 93% of the students who took part had already been vaccinated with an initial course of the vaccine (two jabs). This indicates a six per cent increase in students having two jabs since we ran the survey in September 2021. An additional three per cent of respondents had received one shot and are now waiting for when they are eligible for their second shot.
The survey also showed that 59% of the participants had already had their booster jab, and we continue to strongly encourage our students and staff to get their Covid-19 booster jab as soon as they are eligible to extend their protection against getting seriously ill.
To make vaccinations even easier to get, we are hosting mobile vaccination units on campus in partnership with the NHS for students and staff. The first unit was stationed outside Pevensey 1 on Monday this week and successfully administered around 120 doses. We are arranging a second unit on campus in late February for those who have just had their second shot recently.
We strongly encourage all students and staff, unless medically exempt, to get the Covid-19 vaccine and the booster jab to protect themselves, those they care about and the wider community. Book your Covid-19 vaccination appointment on the NHS website or go to one of the walk-in clinics in town.
You can find out other ways in which students and staff are encouraged to keep campus safe on the Student Hub and the Staff pages.