Be part of Brighton Pride Parade with University of Sussex
Posted on behalf of: Internal Communications
Last updated: Friday, 17 June 2022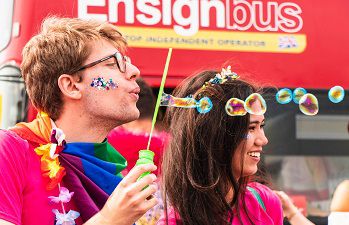 This year the University of Sussex is once again a proud partner of Brighton and Hove Pride, the UK's biggest Pride celebration. It's a bold, beautiful and brilliant celebration of inclusivity, with our community coming together to fundraise, have fun and campaign for LGBTQ+ equality.
The University is delighted to be taking part in the Pride Community Parade on Saturday 6 August with a walking party. We invite current students, staff and alumni to join us in the Parade – and if you take part, you'll also receive a free weekend ticket to enjoy Fabuloso in the Park at Brighton and Hove Pride on Saturday 6 and Sunday 7 August.
With headliners including Christina Aguilera, Paloma Faith and Jake Shears it promises to be an incredible event!
How to take part:
To register your interest in taking part in the Parade with us, please complete this form by 5pm on Friday 1 July.
All are welcome, however places are limited and will be allocated on a first-come-first-served basis. We will be operating a waiting list if the Parade is oversubscribed.
What you need to know:
To take part, you will need to be available from 9am-2pm on Saturday 6 August.
Participants will receive their free ticket to Fabuloso in the Park on completion of the Parade.
As you will be representing the University of Sussex in the Parade, you will be given branded T-shirt (or similar item) to wear on the day.
For more information or if you have any queries, please contact the Events Team at: events@sussex.ac.uk
About our partnership with Brighton & Hove Pride
Founded in the 1960s, the University of Sussex has always been proud to speak up for the things that matter to us. It's a place where people can be themselves and stand up for what they believe in.
Our students are compassionate and proactive in pushing for change. Together with our academics, they work beyond boundaries to explore the connections across subject disciplines and find creative solutions to some of the big challenges facing society.
We welcome staff and students from every corner of the globe. Their knowledge, skills and passion help to shape the world around us and contribute to making a positive difference to people's lives.
The University of Sussex is supporting Brighton Pride because we stand for what Pride stands for – we both want to make the world a better, kinder and more inclusive place.