Click here for a chance to win a free £20 bar tab with EcoGo
By: Martha Knott
Last updated: Thursday, 2 February 2023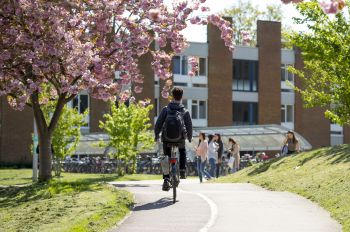 You could win a free £20 bar tab every Friday until 18 February!
To be in with a chance of winning, simply download BetterPoints, join EcoGo and complete the baseline survey. Plus, if you refer a friend in-app, you'll both be in with a chance of winning! The bar tabs can be used in Falmer Bar and Northfield Bar, for any beverages.
Not on EcoGo yet? EcoGo is the University's very own active and sustainable travel rewards programme, where you earn 'BetterPoints' every time you walk, cycle or take public transport to campus instead of using a car. You can then redeem your points for discounts and offers on campus and in popular shops in Brighton.
EcoGo users can also redeem vouchers for £2 off in Falmer and Northfield bars. Join EcoGo today to start making the most out of 2023!