#WeAreInternational launches 23 May 2023
By: Eileen Laffan
Last updated: Tuesday, 23 May 2023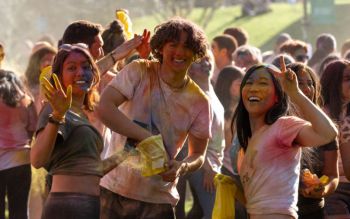 On Tuesday 23 May 2023 UKCISA (UK Council for International Student Affairs) are launching the #WeAreInternational campaign across the UK.
This is a great opportunity to celebrate our international student community using the #WeAreInternational hashtag. At the University of Sussex, we are very proud to have a strong, diverse international community, with representation from over 100 countries across our staff and students. It is this diversity that provides a wonderful richness to our beautiful campus. As the UKCISA campaign states it is by bringing different views from across the world together, we can grow knowledge, broaden understanding and transform lives.
As part of the campaign, we encourage staff and students to share the #WeAreInternational campaign to celebrate our international community.
Below are some key dates, we'd love to hear your experiences and stories of what it means to be part of the University of Sussex community using the #WeAreInternational. Follow the hashtag to see what other students and staff are celebrating.
Tuesday 23 May: #WeAreInternational launch
Tuesday 17 – Friday 21 July: University graduation
Monday 17 August: A-Level results day
Friday 17 November: International Students Day