Discover the rooms, spaces and services available to you in the Student Centre.
Using the space
The Student Centre has been designed with a variety of flexible spaces where you can access the support you need, find somewhere to chat and discuss ideas with friends, or head to a quieter area to study or relax. Our facilities include:
spaces for workshops and group work
rooms for confidential advice sessions and meetings
flexible spaces for students to meet and collaborate
heat and eat facilities
a coffee tuk-tuk
a beautiful and peaceful courtyard garden to relax in and enjoy.
See inside the Student Centre
Video transcript

Transcript starts:

Impressive aerial views of the Sussex campus, descending into the entrance way of the Student Centre.

Text on screen: The heart of your student experience. Have you been inside yet?

A barista hands over a coffee cup.

Text on screen: Grab a drink. See what's going on.

Walk-through views of tables, chairs, spaces, nooks and quiet corners.

Text on screen: Find a place to study or to take a break. Stay solo or invite your friends.

Text on screen: Bring your own lunch.

A student putting food in a microwave.

Text on screen: Facilities for everyone.

Glimpses of toilets and changing areas.

Text on screen: Spaces for events and workshops, and to take a breath.

Inside large, brightly-lit rooms with acoustically treated ceilings. Gliding out into an airy courtyard with a relaxing fountain.

Text on screen: Find confidential support, or any extra help you need.

A student advisor shows the way into a confidential room. Two welcome desk staff smiling and pointing towards a wide staircase.

Text on screen: More spaces upstairs, plus drop-ins and services.

Meandering through stylish corridors, students working quietly, towards an open door, where another advisor waits to help.

Text on screen: Your Student Centre.

Views of the foyer and the building from outside.

Transcript ends.
---
Pictures
See inside the Student Centre – browse the images below.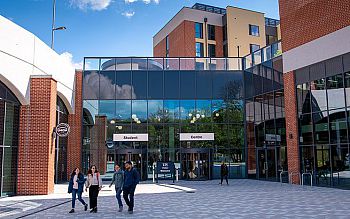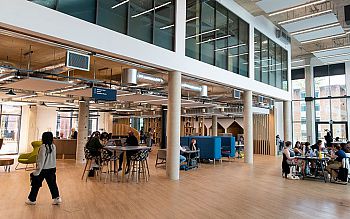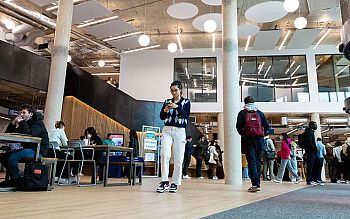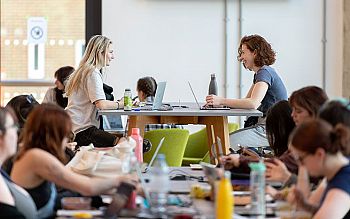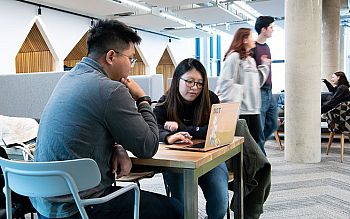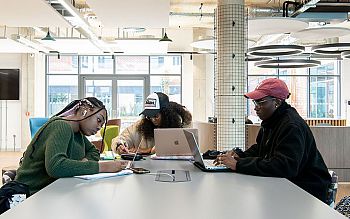 ---
Confidential rooms
Our Seascape and Landscape confidential rooms are used for pre-booked appointments and drop-in sessions with our student support services only. They are not bookable student study spaces.
Accessibility
The Student Centre is accessible to everyone. It includes a lift to the top floors, accessible toilets and a changing place.
If you have concerns about the accessibility of an area, contact the Student Centre team.
Using technology
You can charge laptops and phones, and there are screens to cast to in the beach huts and within the huddle furniture.
There are also four PCs for students to use near the Heat and Eat area. You can borrow laptops and chargers from the Library if needed.
There are no printing facilities in the Student Centre.
Food
The Student Centre has two designated sitting areas where you can eat and have hot drinks:
The Heat and Eat area has three microwaves for you to heat your own food, a boiling water zip tap and a sink. There are also three vending machines with snacks and hot and cold drinks on sale.
The Café area near the main entrance has a coffee tuk-tuk where you can buy hot drinks during working hours. There are also two digital screens where you can order food to be delivered to the Student Centre.
Both areas include tables and seats where you can enjoy your food and hot beverages with friends or on your own. You can have cold drinks anywhere in the building, but we ask you to have food and hot drinks only in these two areas to prevent spills and food smells.
Shops
Co-Creation Space
The Co-Creation Space is an area dedicated to co-creative work between students and staff.
We invite all Student and Staff Connectors, as well as others working on collaborative projects, to use the space for team meetings and individual work.
Find out more about using the Co-Creation Space.
Code of conduct
We want to create and maintain a safe, respectful environment and a positive student experience. Read our Student Centre code of conduct [PDF 294KB] to understand the conduct and behaviours we expect from students, staff and visitors.