Sussex alumni inspire students wanting to work in law
By: Amy Stevens
Last updated: Thursday, 17 November 2011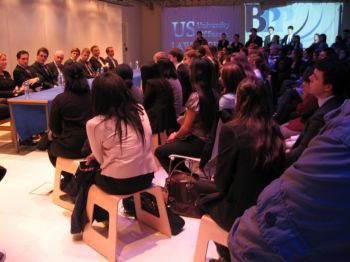 More than 150 students gathered in the Attenborough Centre for the Creative Arts (ACCA) Creativity Zone for the annual Law Careers event last week (8 November).
Alumni working as both barristers and solicitors spoke about their careers, and how they had developed since leaving Sussex.
Nine alumni, more than ever before, shared their experiences at this year's event and stayed after the talk to answer questions, giving many students their first experience of networking.
Among the issues covered were:
What students can do to make their job application stand out. Students were advised to get involved in extra curricular activities; work part-time (not necessarily in a legal setting); join mooting competitions; try to get work experience/shadowing; and make use of contacts and the University's Careers and Employability Centre.
How students can develop commercial awareness. Students were advised to follow BBC Business Editor Robert Peston's blog; read the Financial Times (after reading the book How to Read the Financial Times); make sure they keep abreast of business news generally and also how this could affect the legal profession broadly and individual law firms.
The changing face of the legal profession and issues about becoming a barrister (and the criminal bar in particular).
The event was run by the Student Law Society in conjunction with the Development and Alumni Relations Office and the Careers and Employability Centre.
Amy Stevens, Alumni Officer, said: 'The Student Law Society did a fantastic job creating a really professional event. Alumni are always very willing to talk to students and help them in their career planning and it was a pleasure to be able to bring them to such a well-presented environment. My congratulations to the society President Ayesha Ali and her colleague Ben De' Ath'.
The event followed the Finance, Business and Law Fair, held in Mandela Hall, and more alumni will be on campus giving advice in week 4 of the spring term during 'Make it happen' week.