Informatics student teaches programming to local primary school children
By: John Carroll
Last updated: Thursday, 6 February 2014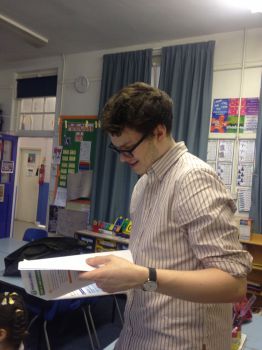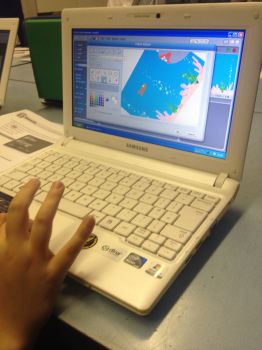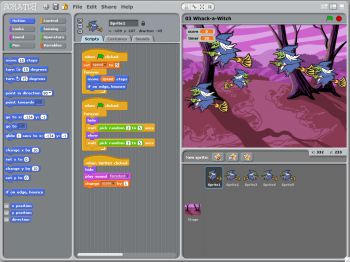 An Informatics student has been teaching local primary school children how to program at an after-school 'Code Club'.
Francis Poole, a second-year BSc Computer Science and Artificial Intelligence student at Sussex, has been running the popular club at Fairlight Primary School in Brighton since September 2013.
In recent years there has been a notable drive to get school pupils coding. At secondary schools, Computer Science has already become part of the curriculum, and pupils can now take a GCSE in the subject. Changes to the primary curriculum are due to come in this Autumn, but many younger pupils have already been developing their programming skills through after-school clubs.
The Code Club movement has been growing rapidly, and there are now close to 2,000 Code Clubs across the UK. These are run by volunteers like Francis, who have programming knowledge they are willing to share.
Twelve pupils have been regularly attending the Fairlight after-school club. They have completed a number of programming projects using the visual programming language, Scratch. Like many popular visual languages, Scratch consists of jigsaw style blocks that indicate their function through their shape and colour. Novice programmers using Scratch don't have to worry about making syntax errors in their code, because the blocks only fit together in ways that make sense.
Dr Kate Howland, Lecturer in Interaction Design in the Department of Informatics, went to visit the club to see how the novice coders at Fairlight were getting on. Many of the pupils were building their own simple games where the player has to click on witches to score points, and some were creating interactive firework displays. The Code Club organisation provide worksheets to guide children through projects such as these, but many of the Fairlight pupils were going beyond the guides to customise the games and put their own stamp on them.
One pupil, Ethan, was keen to test the limits of Scratch by seeing how fast he could make the witches go. He found that setting the speed to '100000000000000000000000000' didn't work, but '1000' made the witches just visible in their movement (but almost impossible to catch!)
When asked for his opinion on Code Club, Ethan felt it could be summed up in one word: "EPIC!"
Jessie was also working on a game project, and had spent lots of time creating her own artwork for it. When asked for her opinion on Code Club, Jessie said: "It's good to get your skills up. My favourite thing is making funny characters to go in the games."
Dr Howland reports that it was clear that all pupils had made great progress through the club, and were really enjoying the activities as well as learning some programming basics.
The school's ICT co-ordinator, Shauna Stewart, who has been facilitating the sessions with Francis, said: "The year 5 and 6 children have really enjoyed Code Club, so much so that we've had to arrange a second one!
"The children have learned to use Scratch by following really clear instructions and having really good end results.
"Francis, from the Uni, has been brilliant with extending the children's understanding of how to use Scratch. As for us teachers, it's been a great insight into the new Computing curriculum and made it seem more achievable for all."
Francis wants to encourage other students at Sussex to get involved in running Code Clubs, and has plans to start a student society to support the activity. Any Sussex students wanting to get involved should email Francis (fp72@sussex.ac.uk).