Sussex scientists help BBC with cancer programme
By: Jacqui Bealing
Last updated: Thursday, 20 March 2014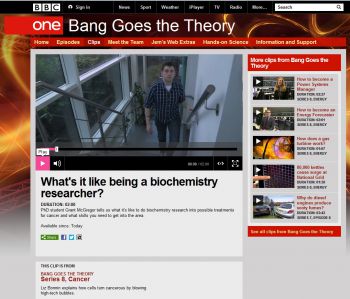 Viewers of tonight's (17 March) BBC One science programme 'Bang Goes the Theory' will get to see some of what goes on in the labs of the University of Sussex's MRC Genome Damage and Stability Centre.
Researchers, including Dr Helfrid Hochegger and PhD student Grant McGregor, were involved in helping the producers and presenters explain how cancer cells form and grow, and what new drug therapies are currently being developed.
The programme includes a time-lapse sequence by Helfrid showing how HeLa cancer cells grow. The show's presenter, Jem Stansfield, then demonstrates how the cells are killed through radiation.
As a result of the assistance staff gave to the BBC, Grant was also interviewed about what inspired him to go into biochemistry research. His interview is now on the 'Bang Goes the Theory' website.