Curtain rises on Sussex student's drama research at Petworth House
By: Jacqui Bealing
Last updated: Wednesday, 10 March 2021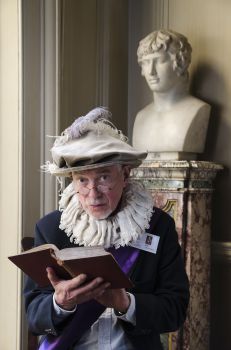 A Sussex doctoral student has helped bring Jacobean drama to life at a West Sussex stately home this week (21 July 2014) .
Maria Kirk, who is studying for a PhD in English, has been delving into a collection of early printed copies of plays by the likes of Ben Jonson and Shakespeare, as well as long-forgotten playwrights, that were discovered in the libraries of Petworth House.
Now extracts from some of the comedies, dramas, tragedies and satires have been sewn together to create a production entitled The Petworth Plays, which is being performed at the historic house from 21-25 July 2014 as part of the Petworth Festival.
Maria, who helped to create the production with Petworth Festival director Stewart Collins and theatre director Tam Williams, began her research three years ago into how and why the collection of 148 plays arrived at Petworth in 1638.
She says: "We know that they were bought by the 10th Earl of Northumberland, Algernon Percy, whose family owned Petworth at the time, but there's no suggestion they were to be performed. One of the main reasons for their purchase was probably the fact that Percy had inherited a large library from his father that contained historical, poetic and scientific texts – but no drama."
"The collection offers a fascinating glimpse into not only the tastes and methods of a collector in the 1630s, but also the changing fashions and trends of the dramatic output of the late 16th and early 17th century."
The extracts, which are being performed as a tour of the house by The Guided Theatre Company, include the powerful final scene of John Webster's The Duchess of Malfi, and Ben Jonson's foray into Roman history – Catiline's Conspiracy (first published in 1611).
There are also scenes from some of the now lesser-known works, such as The Late Lancashire Witches by Thomas Heywood and Richard Broome. Published in 1634, it was inspired by events that occurred only one year before in 1633 and tells the story of a coven of witches who wreak havoc in their town – transforming themselves and other people into animals, ruining a wedding, and generally upsetting the social order.
At the other end of the scale is an extract from an allegorical interlude called Wine, Beer, Ale and Tobacco, in which the titular substances hold a comical debate about which of them is superior.
Maria says: "This anonymous play has received very little scholarly attention and has likely not been performed anywhere for centuries. Yet it is very funny – and one that modern audiences can easily relate to."
To accompany the production, there is a small display in Petworth's Square Dining Room of some of the original texts from the collection.
Maria's doctorate is part of an ongoing collaboration between the University of Sussex and the National Trust, who own Petworth House. It is being funded by the Arts and Humanities Research Council to promote collaborative work between academics and important heritage and cultural organisations.
Seats available for both performance times on Wed/Thurs/Fri (ie 7pm and 8.45pm)
Box Office: 01798 344576
On-line: petworthfestival.org.uk