Celebration for students on Sussex scholarships
By: Melinda Lowing
Last updated: Thursday, 16 October 2014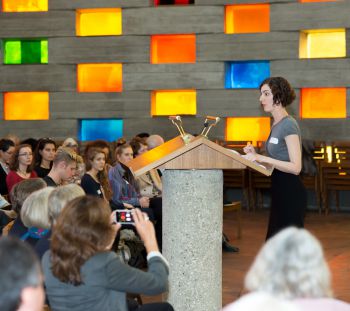 An event to celebrate the successful students who are in receipt of Sussex scholarships was held this week.
Eighty undergraduate and postgraduate students were joined in the Meeting House on Wednesday (15 October) by the Vice-Chancellor, Professor Michael Farthing, as well as members of staff, and friends of the University who have given donations to fund scholarships.
Donors present were:
Nick Butler, Mark Homans and Holly Price (representing Santander Universities, which has funded the Formula Santander Scholarships and the Santander Scholarships),
Jacqui Harper (donor of the Harper Award),
Stelios Pateromichelakis (donor of the Undergraduate Enrichment Award),
Professor Harry Rajak (Chair of Trustees for the Mandela Scholarships),
Fabrice Retkowsky (from Brandwatch, a Brighton-based company that supports the Joe Holmberg Scholarship in Advanced Computer Science, in memory of Sussex graduate Joe Holmberg),
Katie Sayers (representing the academic publisher SAGE, which has funded the SAGE Research Hive Scholarships and the SAGE Undergraduate Scholarships),
and Beryl Williams (who has generously donated towards the Asa Briggs Scholarship).
The University has made 287 scholarship awards to home/EU and international students this academic year.
The Vice-Chancellor congratulated the scholars on their achievements in receiving their scholarships, which are highly competitive awards, and can often be a strong factor in students being able to afford to study at university.
The recipient of the first Asa Briggs Internship, Abigail Wharne, spoke at the reception about what receiving the Internship meant to her. The Asa Briggs Internship is based at The Keep, Sussex's newly built archive centre, and is enabling Abigail to study archival and heritage management in a practical environment, and develop her research skills.
Following the ceremony, scholarship recipients had the opportunity to network with other scholars, staff and donors over an afternoon tea, accompanied by live music from the Realta String Quartet.
The reception was organised by the Student Services division, supported by the Development and Alumni Relations Office and the Student Funding Team.