SussexFood stands up to cancer
By: Craig Ryder
Last updated: Thursday, 23 October 2014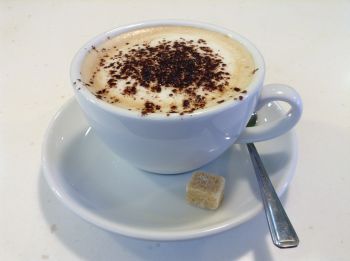 SussexFood hosted a fundraising coffee morning on Friday (17 October) in support of the charitable programme Stand Up to Cancer.
SussexFood welcomed staff and students to The Lounge Cafe (at the back of Dine Central, on the first floor of Bramber House) and provided barista-served, Fairtrade coffee or tea to everyone free of charge.
Guests were encouraged to make a small donation and, over the course of the morning, £81.54 was raised.
David Chick, SussexFood Catering Services Manager, said: "It was a great event and a great way to show our support for an incredible cause.
"We're planning some more fundraising events in the near future and they'll be at The Lounge again as it's the perfect location – centrally located, spacious and with amazing coffee!"
Stand Up to Cancer operates to bring people, communities and organisations together so they can raise funds for Cancer Research UK. Across the UK, the programme has raised more than £14 million.
SussexFood's donation reference number is C179ENY7QN9USSOC1X2