Hygge returns to Northfield for 2015
By: Craig Ryder
Last updated: Monday, 2 February 2015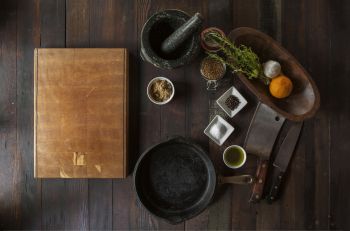 After the success of November's Hygge event, SussexFood and the Students' Union (USSU) are collaborating once more to host another event that brings food, drink and entertainment to the Northfield student residences.
The event on Thursday (5 February) will be celebrating "Hygge", the Danish word for cosiness, which is about being inside with candle-light and great comfort food. It's a cultural past-time that battles against long, dark winters. It's also especially about creating meaningful bonds with your neighbours.
The Sussex film-makers society – who have a burgeoning relationship with SussexFood after producing two short films for them last term – are filming the event. The talented film makers want to master a "tracking shot" (whereby a camera is mounted on a wheeled platform enabling long kinetic shots, on the move).
Craig Ryder, Marketing and Communications Manager for SussexFood, said: "Guests at the last Hygge had a genuinely brilliant time and we're thrilled to be bringing a bigger and better event to Northfield.
"The Swedish meatballs and mustard mash were a major hit last time ... while a Danish student suggested we create a traditional vegetarian dish of caramelised roasted apples, leeks, red onions and cabbage, so that'll be making an appearance."
At the last event there were three student performances and at this event there will be even more. A Brighton-based jazz duo will be kicking off the evening with their alluring sound.
Any students who are interested in performing on the night - and it doesn't have to be music, it could be spoken-word, magic or absolutely anything that fits in with the cosy atmosphere of the Hygge - should contact the organisers via the official Facebook page.