Share your views on BTN BikeShare
By: Alison Field
Last updated: Wednesday, 19 June 2019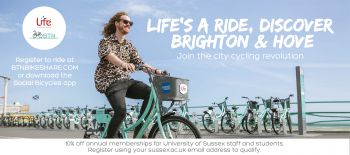 Students and staff who use Brighton and Hove's bike-hire scheme are being invited to share their experiences.
CoMoUK – a charity working to increase the benefits of shared transport – has launched its 2019 survey of bike-share users.
The University of Sussex has been part of the BTN BikeShare scheme since its launch in 2017.
Over 500 bikes are available for hire from hubs at locations across Brighton and Hove, including the Sport Centre and York House at our Falmer campus.
The scheme offers a range of tariffs to suit both regular and occasional users.
A 10% discount on the annual membership means that Sussex students and staff pay only £65 (normal rate £72), which includes 60 minutes of use per day. Additional minutes are charged at 3p per minute and daily charges are capped at £12.
Hire costs for occasional users start from a tariff of 3p per minute (minimum £2 charge).
After you have completed the CoMoUK survey, provide your email address if you wish to be entered into a prize draw for a chance to win one of five £50 shopping vouchers.
The bike-share survey closes on 22 July. For further information, contact info@como.org.uk.