Behind the hoardings: A sneak peek at the new Student Centre
Posted on behalf of: University of Sussex
Last updated: Friday, 15 November 2019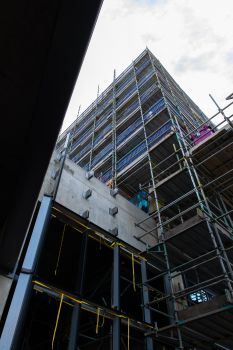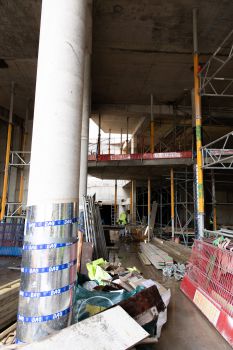 As you walk along Refectory Road on the University of Sussex campus, you will probably notice that some pretty serious construction is going on behind the hoardings.
As well as building new student residences, East Slope contractors Balfour Beatty are also working on the shell of a landmark new Student Centre for Sussex.
When it opens in spring 2021, the Student Centre will be the go-to place for Sussex students accessing services face to face, and will be the main access point on campus for information, advice and guidance.
In recent weeks, key student representatives and staff have been given their first glimpse inside the new building as it takes shape behind the construction hoardings.
They have witnessed an army of engineers and construction workers who are racing to finish the shell in time for handover to the University in March 2020, so that the internal fit-out can begin.
"It's push, push, push," confirms Joe Cornwall from Balfour Beatty. His large team are working both on the external fabric and inside the building, laying floors and plaster boarding walls. "The logistics are astronomical, there are so many deliveries each day," he says. "It's all a good challenge!"
"It's changed massively – immeasurably," says Nadia Pattenden from Student Experiential Services when she thinks back to her most recent site visit, about six weeks previously. In her role providing project support for the Student Centre, she has toured the construction site a few times.
Other staff are seeing the works in progress for the first time. "It's further advanced than I had expected," says Jayne Townsend from the University Estates team.
All of the students and staff on the site tours have been struck by the size and scale of the development. "It's bigger than I thought," says Molly Whyte, Student Communications Manager.
As construction proceeds, student input is being incorporated into designs for the interior. As well as offices for staff, facilities in the new Student Centre will include multi-purpose learning spaces for individual and group study, a double-height performance and event space, rooms for confidential meetings, and access to an outdoor courtyard.
Jayne Aldridge, Director for the Student Experience, says: "The space is being designed to be flexible, so that it can be used in different ways at different times across the academic year. Our overall aim is to create a welcoming and inclusive space for our diverse student body."
There will be an unlicensed café as part of the development, as well as five new retail units near the front entrance. "This is amazing – stunning," exclaims Helen Power-Hosking when she sees the cavernous café space. As Head of Commercial Services, Helen will be responsible for bringing in the businesses that can offer most to Sussex students. "I'm so excited – they're huge!" is her initial impression of the retail arches.
The new Student Centre will be more than a building, though. Until it opens in 2021, the project team will be continuing to canvas feedback from students around the design and use of the building, as well as the services that will be delivered from it.
Jayne Aldridge says: "Not only is our new Student Centre a significant building project – it is also part of our range of initiatives to transform the student experience at Sussex."