Sussex alumni returning to campus with tips to inspire career success
By: Luke Wassell
Last updated: Thursday, 19 December 2019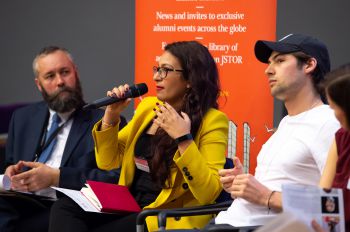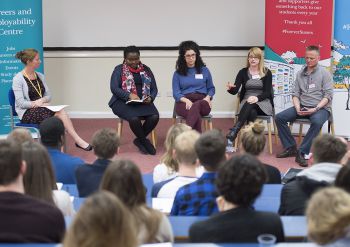 Former students are returning to campus in February 2020 to share their career stories and insights as part of Make it Happen with Sussex Alumni, marking the programme's 10th year.
Taking place Monday 24 to Thursday 27 February, Make it Happen will comprise of four evening events featuring panels of alumni working in four different industry sectors: Media and Communications; Development, Charity and Not for Profit; Business, Finance and Marketing; Government, Public Services and Heritage.
Undergraduate and postgraduate students from across the University, recent graduates and staff are all invited along to hear the different career stories, take part in the Q&A and network over drinks after the panel session.
New for 2020, there will also be School and subject-specific alumni events taking place throughout the term – including Careers in Law, Careers in Psychology and Careers in Life Sciences.
Highlighting the value of Make it Happen for students, one of last year's speakers said: "I came to this event two years ago and met someone who had done the same scheme. They helped me with the application process and I can't emphasise how helpful that is".
Expressing her pleasure at being a part of Make it Happen in 2019, Preena Gadher, Director of Riot Communications tweeted: "Was a pleasure/surreal to return to campus after almost 20 years where I spent some of my happiest years. Great to meet such interesting fellow panellists and the next generation of media and comms professionals".
Describing the 2019 programme, students said: "The talks were very inspiring, and the face-to-face networking was very helpful and fun. I could ask as many questions as I wanted and all the alumni were very friendly and supportive" and "[speakers gave] real world examples of people who have been in our situations and went on to do well in their sectors".
Speakers for 2020 are yet to be confirmed, however the 2019 event featured inspiring alumni speakers from a diverse range of organisations both local and international, including the BBC, KPMG, the NHS, Paxton Access, 1 Crown Row, Unlocked Graduates and the Mayor of London's Office.
Further news and updates will be released in the new year on the University's mentoring and networking platform Sussex Connect and the Make it Happen web page.