Brighton bus fares go up
Posted on behalf of: Transport
Last updated: Thursday, 16 January 2020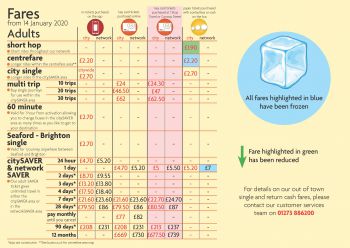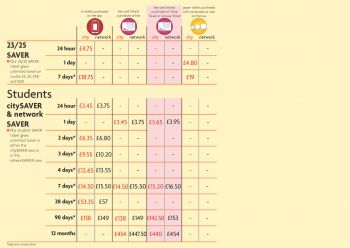 Brighton bus fares have gone up this week: on Tuesday (14 January), the cost of the online one-day adult city fare increased from £4.20 to £4.40.
Brighton & Hove Buses put the price rises down to the £11.5 million they spent in 2019 on ultra-low emissions buses. Growth in traffic and congestion, particularly in the city centre, had also meant extra cost pressures (for extra buses and drivers to maintain the same level of frequency on each route).
The cost of short-hop bus fares went down when the new fares went live; passengers now pay £1.90 for many short journeys using cash or contactless, saving up to 30p on existing prices. This includes journeys between Brighton station, Churchill Square, the Clock Tower, North Street, Old Steine and St James's Street.
Brighton & Hove Buses said: "We've brought in cheaper short hop fares in response to feedback from passengers and we've done our best to keep other ticket prices frozen or to make only minimal increases to cover the costs of the business."
The student one-day city saver ticket has gone up from £3.20 to £3.45, and the seven-day student city saver from £13.50 to £14.50. One-week, three-month and yearly student tickets are also available. More information about student bus travel is available from Brighton & Hove Buses.
When showing a 'student mticket', students must also show appropriate student ID to the bus driver - otherwise the full adult fare will have to be paid.
James Brown, Transport Manager in Sussex Estates and Facilities (SEF), said: "We have frequent meetings and communication with Brighton & Hove Buses, working with representatives from the Students' Union, to assess and improve services to our Falmer campus from Brighton and surrounding areas.
"This includes seeking to influence prices and ensure convenient payment options for students, managing overcrowding during peak term time, and ensuring that services are available for students living across Brighton and Hove.
"Improvements as a result of this engagement have included favourable rates for students purchasing longer-term bus tickets, four weeks of free bus travel for new University staff, and increased services to campus during the busy 9am term-time rush hour."
Sussex staff can obtain a 10% discount on Brighton & Hove networkSAVER bus tickets (7 day, 28 day, 90 day and 12-month tickets) by registering for the easit scheme and a key smartcard. Note that 1 day, Pay Monthly networkSAVERS and citySAVER tickets are not included.
All students and staff can travel for free by bus within the University campus.