Campus works impacting roads, access and transport
By: Paul Anderson
Last updated: Tuesday, 18 February 2020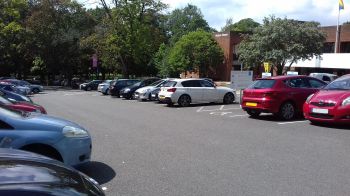 Roads, access, and other works
Interruptions to bus services on strike days
Due to upcoming strike action at the University, bus services will not come onto campus between 7.30am and 3pm on strike days, and will instead use the A27 Falmer Station bus stops just outside campus.
A free-to-use taxi will be available outside BSMS (next to Sussex House car park) for University members with special mobility needs, between 9am and 4pm on affected days. More information is available on the Transport website.
Emergency highway works near campus
To address a significant number of dead and dangerous trees along the A27 in time for bird nesting season in March, work is taking place between the Falmer and Ashcombe roundabouts until next Friday 21 February, on week nights between 8pm and 6am only. This includes full east- and westbound closures and diversions as needed – please be aware of these closures if travelling towards Lewes later in the evening during this period.
Safety barrier replacement works on the A27 are scheduled to take place over a period of four months; more information will be communicated once confirmed.
M23 roadworks from late February
Weekend-only closures will be taking place on the M23 between Merstham and Copthorne from Friday 28 February, over the following four weekends, ending on Sunday 29 March. Please be aware of this closure and resulting diversions if travelling to or from the London area.
Car parks
Lewes Court car park closure
As the West Slope project is entering its early phases, the Lewes Court (P9) car park will be closed entirely for the majority of 2020, from Sunday 1 March until Saturday 31 October. This closure will support early works, with a full compound in place.
P1 Science car park: open
P2 Falmer Sports Complex: open
P3 Biology Road car park: open (20 spaces closed)
P4 Sussex House car park: open
P5 Sport Centre car park: open
P7 Jubilee car park: open
P7a Arts car park: open
P8 Park Village car park: open
P9 Lewes Court car park: open (closed from 1 March)
P11 Knights Gate car park: open
More information on transport and car parking at the University of Sussex is available on the Transport web pages.