Updating students on their education and feedback
By: Harvey Atkinson
Last updated: Friday, 11 September 2020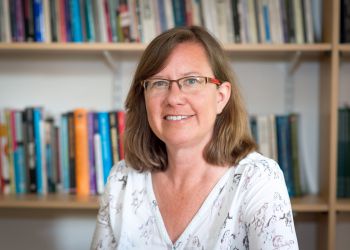 Today (11 September), Pro-Vice-Chancellor for Education and Students, Kelly Coate, sent her regular weekly email to all Undergraduate and Postgraduate Taught students. You can read the full email here:
Dear students
Last week and throughout this week, we have welcomed Education and Social Work students to campus as they begin their courses. It's been nice to see students in classrooms again - and of course for those of you who have not arrived yet I am really looking forward to welcoming you in just a few weeks' time.
We are doing a huge amount of work to make sure that your time on campus is a happy and healthy one. A key part of this is to make it as easy as possible for you to get the information and guidance you need, and if you haven't done so yet, please do visit our Autumn 2020 pages which outline our preparations for the beginning of the academic year. These pages are regularly updated so please do check in when you can.
As I have mentioned in previous updates, we will be delivering a blended teaching and learning approach, with a mix of online and in-person teaching and you can read more details about this on the Your education page.
I want to reassure you that our blended teaching and learning approach, and the comprehensive health and safety measures we are putting in place will enable you to have a much better educational experience than online learning alone.
Staff from across the University have been working for months to prepare for the re-opening of campus in a manner that adheres to the latest UK Government advice and our own expert health and safety staff – and we continuously monitor and respond to this advice with your best interests at heart.
It is important that you know that there is no change to our approach to deliver blended learning – and you should continue to make your preparations for beginning your course as normal – so you can join the students who are already enjoying their courses and time on campus.
In addition to this information I'd like to share some recent updates and information with you that answer the questions you've been sending me:
Timetables
Returning students can access their timetable via Sussex Direct and new students will be able to access timetables once their School adds them to their teaching groups. Given the situation with Covid-19, the mode of delivery may be subject to change but please be assured that we are continuing to monitor all Government guidance. You can also access your timetable easily via the SussexMobile app – if you haven't done so already we recommend that you download the app on to your smartphone.
Cleaning
Our Estates and Facilities staff continue to implement an extensive and thorough cleaning and sterilisation programme across all areas on campus used by students and staff – and as you would expect our cleaning regime has been increased. When you come into a seminar or classroom, you will be able to pick up an anti-viral wipe and wipe down any surfaces (desks/chairs etc.) and settle in. There will be ten minutes allocated to the start of each lesson to give you time to do this.
Face coverings
You can find out general information on face coverings on the Keeping campus safe page. Unless you are exempt from wearing a mask for medical reasons, you will be expected to wear a face mask when being taught in a face to face environment and in areas such as the Library. We encourage you to make sure you have appropriate face coverings when your return to campus, but you will also receive a free reusable face covering in your University welcome pack.
Some people are exempt from wearing a face covering, and they may want to show this to others in some way, such as wearing a lanyard and/or badge for example. People wearing a sunflower lanyard have a hidden disability and they may be exempt from wearing a face covering – they may also choose to wear a badge with it to show their exemption. It is really important that we are aware people have a choice to show their exemption status or not – and some may be happy to explain if asked why they are not wearing a face covering rather than display a visual symbol.
For those who wish to show their exemption status the University will be providing yellow lanyards at various points across the University.
Covid reporting form and students who have to self-isolate
If you have symptoms of Covid-19 you must complete this form and self-isolate. The University will provide support for any students who are self-isolating – whether that be due to them showing Covid-19 symptoms, or because they have arrived at University from abroad and must quarantine – more information on this can be found on the If you need to self-isolate page.
Moving around University buildings
From the beginning of term student marshals will support the flow of key areas in buildings to help everyone get to classes in a way that maintains social distancing. You should not wait in corridors outside rooms and instead you must wait outside buildings until the start time of your class. There may also be designated socially-distanced waiting areas that you will be able to identify from floor signage.
Making sure teaching areas are Covid secure
Our expert health and safety staff have made comprehensive health and safety assessments for all teaching spaces. In addition to making sure these areas are Covid secure, estates have ensured that there is adequate ventilation – and in rooms with air conditioning, systems have been set to bring in the maximum amount of outside air; in addition to this all filter systems have been changed.
Some teaching areas are windowless, such as some lecture theatres, but they have air-handling systems that provide adequate ventilation – and whilst these ventilation systems may not always appear visible, they will provide adequate ventilation in accordance with strict Health and Safety requirements.
All teaching areas will be set up to ensure social distancing and it is really important that you don't change any of the desk or chair lay outs.
Your lecturer may choose to wear a visor during face to face teaching, and they will be at least two metres away from any students to ensure appropriate social distancing is kept.
Teaching and learning
If you haven't already viewed it, you can find out how you will learn and be assessed via the Your Education pages.
For every in-person teaching session, there will be ten minutes allocated at the beginning to enable students to enter the room in a socially distanced manner, and as mentioned previously, pick up an anti-viral wipe and wipe any surfaces (desk/benches etc.). At the end of the session there will be ten minutes allocated to enable everyone to leave and maintain social distancing.
I'll continue to share updates with you each week and the Student Hub's Autumn 2020 pages will also be updated on a regular basis.
Finally, if you have any questions about your course please contact your School office, and if you need advice, guidance or support on an issue that may be affecting you, a range of student support services are here to help and you can find out how to contact them here.
With best wishes
Kelly
Kelly Coate
Pro Vice-Chancellor for Education and Students