Sussex students and staff encouraged to use new NHS Covid-19 contact-tracing app
Posted on behalf of: University of Sussex
Last updated: Friday, 25 September 2020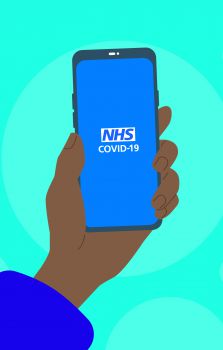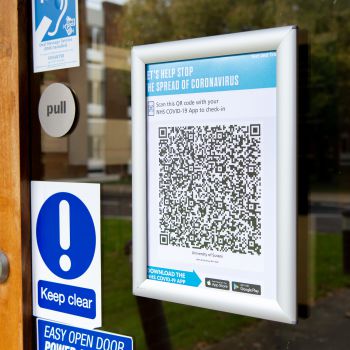 All Sussex students and staff are strongly encouraged to download and use a new NHS Covid-19 contact-tracing app, launched across England and Wales on Thursday (24 September).
The new technology will facilitate the national NHS Test and Trace service, by logging if app users have spent 15 minutes or more within 2 metres of another user; if one user is later diagnosed with the virus, the other person can be alerted to this.
The app will also ask users to scan a barcode-like QR code at particular locations, so that they can be alerted if any location is subsequently linked to multiple infections.
User data will not be centralised, but will stay in the phone and can be deleted at any time. None of the data will be visible to the University of Sussex.
Universities are among a number of organisations that have been asked to support the app by displaying posters with QR codes.
At Sussex, QR codes have been posted at various campus locations where people congregate, such as lecture theatres, the Library and cafes.
Steven Johnson, Chief Technical Officer, has been leading on this work for the University of Sussex. He said: "The app is part of ongoing initiatives to help stop Covid-19 transmission by tracing users' close-proximity contacts as quickly and as comprehensively as possible, capturing the contacts they either don't know or don't remember meeting.
"Anyone with a smartphone will be able to find out if they are at risk of having caught the virus, and then order a test, and access the right guidance and advice."
This app also brings together a variety of existing NHS advice and services into one easy-to-access place. These include:
A symptom checker, which will provide information to users on when to self-isolate if they are suffering from one of the four major known symptoms of Covid-19
A countdown function and advice for those who are told to self-isolate
The new app has been designed in collaboration with Google, Apple and other tech companies so that it works with 99% of smartphones.
The app will operate in addition to the contact tracing that is already taking place throughout the UK. At times when a user does not have their phone with them, or if they enable the pause function, they should follow NHS guidelines on public health contact tracing.
It is important that the new NHS app is used in conjunction with the University's own Covid-19 symptoms or self isolation reporting form. Any student or staff member who experiences Covid-19 symptoms while on campus must return immediately to their term-time residence and complete the online form. Staff should also inform their line manager.