Improvements to Click and Study service
Posted on behalf of: University of Sussex
Last updated: Monday, 12 October 2020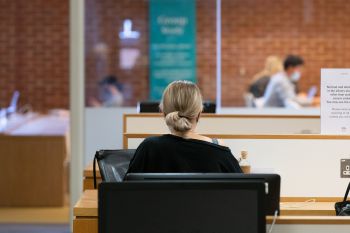 More locations have been added to the Click and Study service, which enables all University of Sussex students and staff to book a socially distanced study space in the Library and in other rooms around campus.
New study spaces are now available on the first floor of Bramber House (in the former Dine Central). Spaces in the Gallery (part of the Conference Centre, on the third floor of Bramber House) will be coming soon. There is no access to electrical power at these new study spaces, so make sure your laptop and any other devices are fully charged.
Other types of study space are available for booking elsewhere on campus. To help you to find the space that best suits your needs, there are a range of seating categories such as 'Desk with electrical supply', 'Desk with PC' and 'High desk with Mac computer'.
In response to student feedback, the flexibility of booking options has also been increased, meaning you can now book study spaces in blocks of one hour or more, up to 15 hours a week. Sessions can be booked two weeks in advance.
Suzanne Tatham, Associate Director in the Library, says: "The bookable study spaces are for individual, quiet study and have been arranged to create a safe study environment.
"We want to enable as many students as possible to study in their building of choice, so we will continue to review the available spaces and the parameters that we've set on the booking system."
Once you have booked your session you can arrive at any time within your one-hour slot. It's important to check in using the QR code on the desk or the link in your confirmation email.
You must sit only at the specific desk that you have booked and will not be able to move to another empty desk (if one is free). Cleaning materials are provided for you to sanitize your desk before use. Social distancing is in place throughout these spaces and you are asked to wear a face covering at all times, unless you are exempt.
See the Student Hub for information about other locations on campus where you can study, heat up food, make a hot drink or unwind between sessions – without needing to book in advance. Some of these spaces have a temporary limited capacity because of social distancing.