Expert tips for protecting your identity online
Posted on behalf of: University of Sussex
Last updated: Thursday, 14 January 2021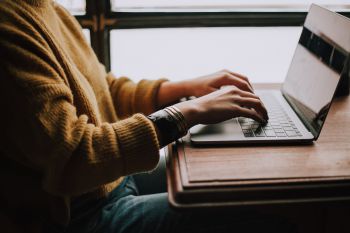 Get Safe Online, the UK's leading source of information and advice on online safety and security, has some useful tips for protecting your identity online.
Why is protecting your identity so vital?

Your identity is one of your most important possessions. It helps to prove that you're you, it enables you to verify your age online or in the pub, apply for a driving licence or a loan, get a mobile phone contract or a passport. And much, much more.

So when a cybercriminal steals your identity, they can do all of these things in your name too. As well as selling it on to other criminals, and even committing criminal acts in your name.

Usually, identity thieves work online, looking for snippets of information about your life in social media posts and profiles, and unprotected email accounts. They exploit the fact that people like to share personal information with their online friends – and can be lax with security. Equally, they can find confidential information like National Insurance and bank account numbers in un-shredded rubbish.

It doesn't take many of these snippets for them to successfully steal your identity and wreak havoc with your life.

Expert tips to help you protect your identity:
Never share account details or other information that you use to prove your identity, with friends, family or other people.

Think about what you share on social media, such as date of birth and family members' or pets' names you also use in your passwords. Don't post details or images of your driver's licence, passport, NI number or other confidential items.

Never reveal private information in response to an email, text, letter, phone call or web form unless you're certain that the request is authentic. Call to check, on the number you know to be correct.

Install the latest software, app and operating system updates on your computer and mobile devices. Better still, set them to update automatically.

Make sure all your passwords are strong, and keep them safe. Try using three random words, combined with capital and small letters, numerals and symbols.
Don't use the same password for more than one account.

Use a strong and separate password for your email accounts.

Don't connect to public Wi-Fi hotspots when doing anything confidential online. They may not be secure, and they may even be fraudulent.

Always beware of people looking over your shoulder when you're entering private information on a computer, mobile device or ATM.

Arrange for paperless bills and statements instead of printed ones.