Join the Sussex Racing Formula Student 2021 competition team: business roles available
By: Serena Mitchell
Last updated: Monday, 22 February 2021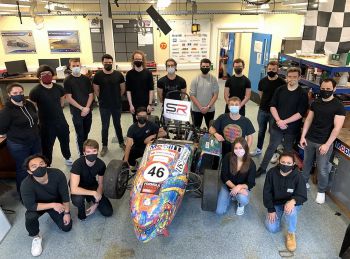 Do you have the vavavoom it takes to create a winning team?
Do you want to experience what it's like to work in the sporting car industry and Formula One racing?
Do you have sustainable business ideas for motor sport racing?
The Sussex Racing team is seeking second year University of Sussex Business School and Sussex students to join their entry into this year's Formula Student competition, sponsored by the Institute of Mechanical Engineers.
Business roles are available in this student led project to work alongside Sussex student engineers who will design and build a sustainable, zero emission racing car to be raced at Silverstone Circuit, home of the British Grand Prix. The project team is looking for students who can create and deliver the business presentation as part of the Sussex entry. Apply by Friday 12 March 2021.
Engineering student and Concept Class Team Leader, Faaris Sheikh said:
"Our aim for SR21 is to achieve a top 10 finish within the UK teams and a top 20 finish overall. All students taking part will learning lessons in team work, time management, project management, budgeting and presentation, all within strict deadlines. This will give them experience in the skills prospective employers will be looking for and setting them up for a career in any industry, besides engineering and motor sports.
"We really want applications from motivated students keen to apply their business or marketing knowledge. We will need a cost benefit analysis as well as a design analysis, and this is a great opportunity to learn. We use computer simulations as part of the design phase, and need to consider what the manufacturing challenges are."
The project is mentored by Dave Tucker, Technical Services Manager, School of Engineering. He said: "In the high profile, global sporting world of Formula One racing, it's not just down to the skills of the driver that matters. A whole team has helped manage the project, build the business case and market the racing team besides building the car and supporting the driver.
"The motor racing industry is changing as it seeks to design sustainable, energy efficient cars and promote diversity and equality within the industry. The Formula Student competition provides our student team with a great opportunity to build their networks, both on and off campus."
How to apply to the Sussex Racing team
Please email your 500-word expression of interest to Faaris Sheikh by Friday 12 March 2021.
Explain why you want to join the team, your availability, what business knowledge you can bring to the project, and what skills you want to develop. You will need to be available for an informal online interview.
The Sussex Racing team will design and build the car, which is then raced over four days in the summer (June or July), a week after the British Grand Prix takes place at the Silverstone Circuit, Northamptonshire. The student drivers are coached by a professional driver.
Further v
olunteering opportunities
In addition to our Sussex team, there are student volunteering opportunities directly with Formula Student. More details here.
Follow Sussex Racing social media: