Campus works impacting roads, access and transport
Posted on behalf of: Transport Office
Last updated: Thursday, 10 June 2021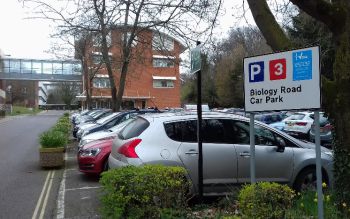 Parking charges currently suspended

Parking charges are currently suspended for all staff and students, which means that you do not need to pay to park on campus. Pass-to-park holders do not need to display a scratchcard while parked.
If you do not have a permit, you can request a temporary permit free of charge by submitting an application form to the Parking Panel at parkingpanel@sussex.ac.uk. If you already have an annual permit or pass, you do not need to apply for a temporary permit.
If you are a staff member (at the University, IDS or BSMS) who normally drives to campus, please request an annual permit via Sussex Direct - you will not be charged for your permit until parking charges are reinstated.
New app for Brighton & Hove Buses
Brighton & Hove Buses have introduced a new app for their services, available now on Apple iOS and Android devices. More information is available on the B&H Buses website.
Impacts to roads and transport
Lane closure on Knights Gate Road
A single outbound lane will be closed on Knights Gate Road from Thursday 10 to Monday 14 June, to facilitate electrical installation works in the area. The second exit lane will remain open, so this closure will have minimal impact on drivers exiting campus.
Overnight closures on A27 towards Eastbourne
To enable resurfacing works, overnight closures (8pm to 6am) will be in place on the A27 between Wilmington and Folkington, near Eastbourne, until Friday 11 June.
Signposted diversions will be in place via the A26 and A22. Escorted access will be available for emergency services and residents within the closure area.
Car parks
The small parking area between Swanborough and the in-progress Student Centre will be closed from Monday 14 to Friday 18 June. Alternative parking is available immediately opposite at Park Village car park (P8).
P1 Science car park: open (some spaces closed)
Falmer Sports Complex: open
P3 Biology Road car park: open
P4 Sussex House car park: open
P5 Sport Centre car park: partially open
P6 Ridge car park: open
P7 Jubilee car park: open
P7a Arts car park: open
P8 Park Village car park: open
P9 Lewes Court car park: open (12 spaces closed)
P11 Knights Gate car park: open