Update for students
By: Maria Balboa Carbon
Last updated: Thursday, 14 October 2021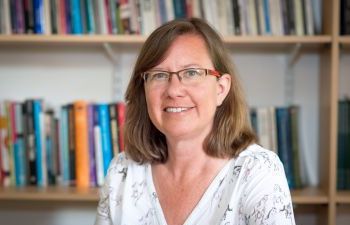 Today, 14 October, Kelly Coate, Pro Vice Chancellor for Education and Students wrote to all taught students. You can read the message in full below:
Dear students,

In this update you can find about:
Freedom of speech and inclusion
Getting tested if you have a cold
Your wellbeing
Registration (new and returning students)
Film for COP26 competition
Paxton scholarship
Black History Month

Freedom of speech, inclusion, and supporting our community
Our new Pro Vice-Chancellor for Culture, Equality and Inclusion David Ruebain wrote to all students on Tuesday with his approach for advancing all aspects of community cohesion at Sussex. David just joined Sussex last week and will be focusing on finding ways for the University community to come together and to look at the way forward.

We are very aware that the discussions that have taken place on social media and on our campus over the past week are often difficult and may mean that some in our community would like to talk about how they are feeling. So I wanted to share this source of information.

Also, please remember University Report and Support tool: if you or someone else has experienced behaviours such as bullying, harassment, a hate incident, sexual violence, domestic abuse or discrimination, you can let us know using this Report and Support tool. The tool can be accessed online via the Report and Support Tool webpage.

Thank you to the student officers in the Students' Union, for sharing their concerns about making sure everyone in our community, particularly those who may have been affected by recent events, know where to go for support.


Getting tested if you have a cold
We strongly encourage you to routinely take two LFD tests a week to protect everyone in the community.

If you are feeling unwell with illnesses such as cold and flu (none Covid symptoms), then an LFD test can still be taken (LFD testing page).

If you do have illnesses such as cold and flu, please respect the community by avoiding the spread of illnesses. Please don't attend in person teaching or meetings until you have tested negative for Covid and feel well enough to attend without making others ill.

If you do have Covid symptoms (cough, high temperature or loss of taste/smell), please take a PCR test and read more on the self isolation and quarantine page.

Your wellbeing
The University counselling services have organised a series of groups and workshops to help you in your student life.

You can find more information about health, support and wellbeing on the Student Hub.


Registration (new and returning students)
If you've not already done so, please remember to complete the registration process by tomorrow Friday 15 October. You still need to complete your registration even you've not arrived on campus yet.


Film for COP26 - win cash prize!
Our Film for COP26 student video competition launched earlier this week. This is your opportunity to put your voice and creativity into action and help tackle the climate emergency – and have a chance to win a cash prize for your plus support to promote your film if you win.


Paxton scholarship
If you are graduating in 2023 and studying a STEM course, this programme offers you a £10,000 scholarship and a three-month paid work placement at Paxton with support during your final year project. The first stage of the application is the Q&A session on 20 October at 3pm. You can book your place by emailing alumni@sussex.ac.uk

Black History Month
Finally, I was pleased to see one of our alumni featuring in the new tube map that TfL have created for Black History Month. Len Garrison studied African and Caribbean History in AFRAS (School of African Studies) in the 1970s. He was an educationalist, community activist and historian who catalogued the development of the Black British identity and its history, and co-founded the Black Cultural Archives. We will also be commemorating Len's achievements as part of our 60th-anniversary celebrations.

With best wishes,

Kelly

Kelly Coate
Pro Vice-Chancellor for Education and Students