Global Engagement releases new video on the implementation of the University of Sussex International Strategy
By: Sephora Imomoh
Last updated: Thursday, 21 October 2021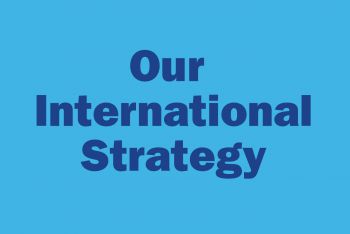 Global Engagement releases new video on the implementation of the International Strategy
In 2019, the university of Sussex approved an international strategy that set out to enhance our global reputation, facilitate positive change with a focus on sustainable development; creating international research collaborations with impact; and focusing our standout mobility programmes on enhancing our students understanding of the world, and finally to bring the world home through technology enabled learning and collaborations.
As we celebrate #60yearsofSussex we are very pleased to share a video update on the strategy implementation.
View the video here: https://youtu.be/3rpgZEpoqCo
Deputy Pro Vice Chancellor (International) Professor Richard Follett stated: Promoting the University of Sussex and ensuring that our reputation stands out among all our stakeholders is a task for the entire university community. We thank everyone for their contributions to the delivery of our strategy so far and we will continue to work with the academic and professional services teams to build the University's global reputation.'
Staff are encouraged to share the video on social media and at any relevant events across the university. For more information, contact the Global Engagement team on globalengagement@sussex.ac.uk.