Student entrepreneurs are invited to join Marco, a new app developed by Business School students
By: Serena Mitchell
Last updated: Friday, 3 December 2021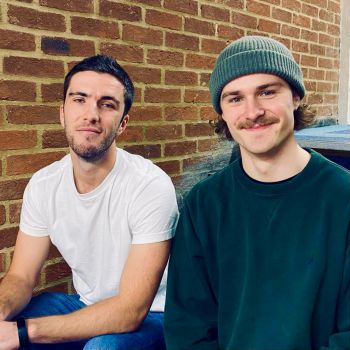 Two Business School entrepreneurs are developing Marco, a new app to connect budding student entrepreneurs with each other and are inviting Sussex students to join.
Every university has aspiring entrepreneurs within its student and graduate population. Some have a business idea, but no team. Others have the skills and ambition, but no idea. Business School graduate Sam White (BSc Business & Management, 2019) and current final year student Tristan Collin (BSc Business & Finance with a placement year) have teamed up to develop Marco, a new UK based platform connecting people and ideas.
Sam and Tristan are inviting entrepreneurial students across the Business School and the University to register their interest in the app, prior to its launch. They are working on its design and build as part of a Sussex Start-Up Lab project. After finding data showing the market gap, the pair have started building their solution as part of a StartUp Sussex Lab project.
Sam explains the idea behind Marco:
"When I started attending the StartUp Sussex Lab, I realised there were broadly two groups of entrepreneurs; students with great ideas looking for collaborators, and students with ambition and knowledge, but no solid business idea to develop."
"The difficulty is you can't introduce yourself to everyone on campus. Or even everyone in a single lecture theatre. You'd also be surprised by the lack of networking sites that allow aspiring entrepreneurs to find collaborators systematically and effectively. They're too broad and don't have the functionality.
"We spoke to Sussex staff and students to get to the heart of the challenges that needed addressing. The result was a concept for a platform that facilitates meaningful connection by matching students and graduates with high levels of relevancy.
"When student entrepreneurs are at the idea stage, access to effective collaboration is essential. Whether that's finding someone with a particular skill, a great idea or someone just to bounce ideas off. When you start having these conversations, you become more accountable. It helps you keep the ball rolling."
How Marco works
Using Marco, the user creates an account and specifies their interests and some basic background information.
The user can then search for potential connections based on selected preferences such as course and professional interests. The platform will return a set of matches from its user base of students and recent graduates. The user can then review the matches and choose to message or connect with the most relevant profiles.
Launching Marco
Sam and Tristan are aiming to launch an early version of this product next term in 2022.
Sam said: "Because this is a networking platform, the more students we can get on the platform the better. Further down the line, we're planning to give users the ability to network with students and graduates from other universities across the UK. The aim is to build an effective networking platform that best serves the UK's community of young entrepreneurs."
Sign up to register your interest in the app launch and find your co-founder.