Transport infrastructure skills: improving equality, diversity and inclusion
By: Charlotte Humma
Last updated: Wednesday, 15 December 2021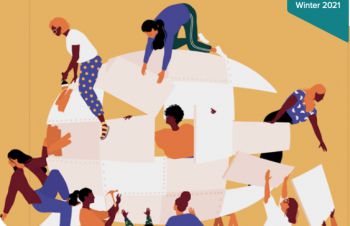 The Department for Transport has published a new report on improving equality, diversity and inclusion in the infrastructure sector, written by Phillippa Groome in the Science Policy Research Unit – SPRU – at the University of Sussex Business School.
The research report was commissioned by the Strategic Transport Apprenticeship Taskforce to independently explore some of the issues associated with equality, diversity, and inclusion (EDI). The report focuses on gender across the UK's transport and infrastructure sectors and suggests ways the sector can be more diverse and inclusive.
Drawing on best practice on the ground and supporting academic evidence, the author recommends a performance framework to improve the delivery of EDI interventions in major projects:
Manage interventions as a change management programme
Consistent messaging is needed to clearly communicate the 'who, what, when, why and how' of the EDI interventions driving organisational change.
Collect, monitor and report both numerical and non-numerical data
EDI data can be a valuable tool to direct focus and stimulate deeper enquiry (in honour of the popular adage, 'what gets measured, gets managed').
Build systems for performance management
Mechanisms to monitor accountability can be built into day-to-day activities to keep both policymakers and practitioners engaged with the task at hand.
Overhaul mechanisms for evaluation in recruitment and progression
Recruitment and progression opportunities are allocated on the merit of competing candidates. Contrary to popular belief, merit is not an absolute measure, but rather a subjective determination of what matters; merit is a value judgement.
Introduce mentoring programmes
Mentoring can help people to defy negative stereotypes, raise their aspirations, and improve their career prospects.
Carve-out opportunities for reflective dialogue and constructive learning
Proposing and debating contested new ways of working can be a challenging experience for both policymakers and practitioners. When such changes relate to EDI, holding these debates can be avoided altogether.
The research also highlights emerging challenges and opportunities project practitioners face when implementing gender equality interventions including concerns of positive discrimination, under-resourcing and the potential for compounding disadvantage.
Delivering equality, diversity and inclusion interventions is difficult, however, if the Transport Labour Market is to address its future recruitment challenges and support the country's recovery from the pandemic and make a significant contribution to our commitment to levelling up, then it needs to provide careers that are open to all.
The report is part of the work of ProjectX an ESRC funded research collaboration between government, academia and industry representatives.
Phillippa Groome said: Through my doctorate at SPRU, I have been on secondment with the Department of Transport as a Policy Advisor. The experience led to an amazing opportunity to publish a report on gender equality in the transport infrastructure sector. I was able to present my research findings in an accessible format as a guide for senior policymakers and practitioners across both Government and industry.
Transport Minister, Andrew Stephenson MP, tweeted the report saying: We're committed to improving diversity in the workforce & this will build on progress made through our Strategic Transport Apprenticeship Taskforce.
Further information
Read the Enhancing equality, diversity and inclusion for transport infrastructure skills report.