Your student update: Mental Health Awareness Week activities and more
Posted on behalf of: Student Communications
Last updated: Friday, 19 May 2023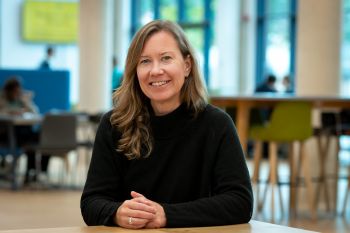 Earlier today, Kelly Coate, Pro-Vice-Chancellor for Education and Students, wrote to all taught students. You can read her full email below:
Hello,

Mental Health Awareness Week is a reminder to take note of how we are feeling and check in with the people we care about. For 2023, the Mental Health Foundation is encouraging awareness around anxiety, and their website offers some practical information about how to manage anxiety.

Our Wellbeing team has put together this article about anxiety, which we hope you find helpful. For more information and guidance, please see the health and wellbeing pages on the Student Hub as a starting point. In addition, you might like to explore Student Space, an online platform run by the charity Student Minds. It features specific resources to help you during the last part of the academic year.

You can contact the Student Centre online, by phone or in person too. Our Student Centre has recently been celebrated for its innovative and inclusive design – read more in this news story.

This week also marks International Day Against Homophobia, Biphobia and Transphobia (IDAHOBIT). Yesterday, on 17 May, Vice-Chancellor, Professor Sasha Roseneil restated our determination to ensure equality and inclusion at Sussex. Read Sasha's statement in full.

Read on for this week's update, including:
Marking and assessment boycott
Your favourite study break activities
Get outside to win a free coffee with EcoGo until 27 May
Tell the Students' Union what you'd like to see in a Community Kitchen
Share your money confessions for the chance to win £50
Instagram caption competition to win tickets to Our Roots on 27 May
Could you be a Digital Media Creator?
Marking and assessment boycott
A trade union representing some University staff (University and College Union or UCU) has announced that members have begun a marking and assessment boycott at 145 universities, including Sussex, from 20 April as part of their national industrial action.

I want to reassure you that the University will do all that we can to mitigate any impact on our students' education, including on assessment and examination results, that may be caused by this boycott. We will continue our discussions with local UCU representatives about this national action, as well as engaging with national processes, and we hope that there will be a swift resolution to this national dispute.

We understand that news of the boycott may make you feel anxious or concerned. Please remember that not all staff are taking part in the boycott and that many students will not be affected. You should continue to study, prepare for, and take all exams or other assessments that are scheduled according to the published deadlines.

If you are concerned about the impact of the marking and assessment boycott, the University's Advice and Guidance team provides a safe and confidential space for you to discuss any issues that concern or affect you. To get in touch, visit Student Centre: University of Sussex..

Our priority is to do all that we can to ensure that you receive your marks and feedback and that you can progress to the next stage of study or graduate, as long as you meet the requirements of your course.


Your favourite study break activities
With the assessment period in full swing, it's important to remember the benefits of taking time out to unwind and recharge for your mental wellbeing. We asked students on Instagram what was their ideal study break – from relaxing activities to more active ones, you can read a summary of the responses in this news story about taking a breath.


Get outside to win a free coffee with EcoGo until 27 May
Staying inside all day to revise might feel productive, but it's important to take a break and get outside. Why not take a walk around our campus woodland? Users of EcoGo, our Sustainable and Active Travel Rewards Scheme, can win a free hot drink every day of the exam period, just by completing 20 minutes of activity.


Tell the Students' Union what you'd like to see in a Community Kitchen
The Students' Union is looking for your views about setting up a community kitchen on campus for use by societies, groups of students and staff. They are interested in your views about the project, how you could use a community kitchen and what you would want to see offered in the space. The survey takes approximately 5-7 minutes to complete and closes on Sunday 21 May.


Share your money confessions for the chance to win £50
For five days a month between May and July, Blackbullion's Instagram stories will become a place where students can share their 'money confessions' anonymously and read other students' submissions to see that they're not alone, try to avoid making the same mistakes and let go of any fear around talking about money.

All entries will be anonymised before publication and will go into a prize draw to win £50. Find out more on how to take part.

For money advice and support, check the money and funding pages on the Student Hub.


Instagram caption competition to win tickets to Our Roots on 27 May
Sussex students have a chance to win tickets for themselves and up to 10 friends to Our Roots in the Brighton Festival, taking place on 27 May.

We're running a caption competition on our University of Sussex Instagram Stories. Every day from Monday 15 May to Friday 19 May we will share the promotional image for the event on our Instagram Story, with a question box for Sussex students to submit their smartest or funniest captions to go with the image.

A panel will vote the most creative caption as the winner! Head to the University's Instagram to take part. Find out more and read the terms and conditions of the competition.


Could you be a Digital Media Creator?
Our Digital Media Creators are current Sussex students who create engaging content for University channels, including Instagram, TikTok and YouTube.

Early next term we'll be recruiting new creators for the 2023/24 academic year. If you'd like to join this fantastic team, fill in this short form to be contacted when recruitment opens.

With best wishes,

Kelly

Professor Kelly Coate, Pro-Vice-Chancellor for Education and Students