New cafe opening times over Christmas vacation
By: Craig Ryder
Last updated: Friday, 5 December 2014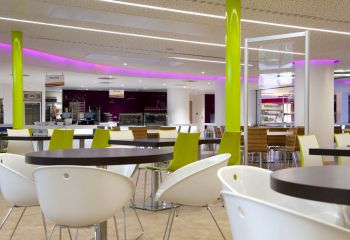 As more students choose to spend Christmas on campus, SussexFood are opening Eat Central to provide a friendly social space for students to enjoy.
A committed team of chefs and servers are specially coming onto campus to prepare and serve fresh, hot food.
For the first time, Eat Central, the restaurant on the ground floor of Bramber House, will be open on 29(Monday), 30 (Tuesday) and 31 December (New Year's Eve). Eat Central will then close for 1 and 2 January as part of the University's minimum service days. The restaurant will re-open for the weekend, 3–4 January. Over these days, Eat Central will be open and serving food from 9am–3pm.
David Chick, Catering Services Manager for SussexFood, said: "We're very pleased to be open over the Christmas break so we can provide a more practical service to people staying on campus.
"As always, the food will be delicious - but one thing we will also want to ensure is a great atmosphere in Eat Central, full of Christmas cheer."
From Monday 5 January, Eat Central will revert to normal, outside-of-term-time opening hours: Monday–Friday, 8.30am–8.30pm; Saturday 10am-8pm; Sunday 12noon-8pm.
You can access a full list of all cafe opening hours on the student web pages.