Restricted travel in local area for Lewes Bonfire
By: Alison Field
Last updated: Monday, 4 November 2019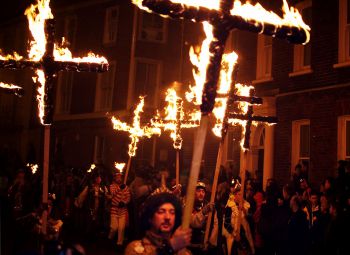 Thinking of heading to Lewes for its famous bonfire processions next month? Think again - with its narrow streets and limited access into and out of town, Lewes is not set up to handle large crowds.
If you're planning to attend the celebrations, you should be aware of the transport difficulties you will experience in getting to and from the event.
The organisers say: "Roads in the town are closed, meaning that there are no parking facilities. Those using public transport are likely to find that it is very crowded and that they will have to queue for long periods before arriving in Lewes. The journey home could be even more horrendous. This can be an unpleasant experience, particularly when it is cold or raining - which is likely in November."
These arrangements may also affect University of Sussex students and staff who are travelling to and from campus or elsewhere in the local area on Tuesday 5 November.
All classes scheduled for that day will go ahead as normal.
Travel by train
There will be no trains calling at Falmer (the station that serves the University of Sussex campus) on Tuesday 5 November after the departure of the 6.31pm Brighton to Hastings service at 6.40pm.
No trains will call at Glynde, Lewes or Southease from 5pm until the first timetabled trains on the morning of Wednesday 6 November.
For details, check online journey planners such as Southern Railway or National Rail Enquiries.
Travel by bus
There will be diversions to bus routes that serve Lewes from 4.45pm on Tuesday 5 November until 2am the following morning.
Check out the Brighton & Hove Buses website for information about changes to the 28, 29 and 29X services.
Travel by road
Road closures will affect large parts of Lewes and visitors are advised not to bring vehicles into the town. Diversions will be in place for traffic to travel outside of the town.
The following road closures from will apply from 4.45pm on Tuesday 5 November:
A27 junction with A277 Brighton Road (Ashcombe roundabout)
A27 junction with A26 (Southerham roundabout)
A26 junction with B2192 Ringmer Road (Earwig Corner)
C7 Kingston Road junction with C324 Wellgreen Lane
A275 Offham Rd junction with B2116 Plumpton Road
A27 junction with Southerham Lane (Cliffe industrial estate)
Parking restrictions will begin to be imposed from noon.
Stay local
How about supporting locally organised firework displays rather than trying to travel to Lewes?
Large displays in Brighton and Hove include Brighton Racecourse on Sunday 3 November and Sussex Cricket Ground on Tuesday 5 November.