Latest changes to local bus services
Posted on behalf of: Transport
Last updated: Friday, 3 April 2020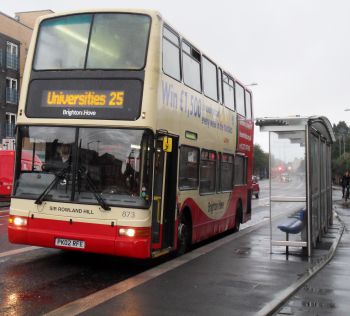 Brighton & Hove Buses have announced timetable changes from Sunday 5 April.
Services until Saturday 4 April
An "enhanced" Sunday bus service is in operation on many routes.
Routes 25 and N25 continue to operate a Saturday vacation timetable.
There are earlier journeys on many routes, including some that serve the University of Sussex campus: 23, 28, 29 and 50. See the list of additional journeys.
A number of routes - including 25X, 50U, 84 and N29, which normally serve campus - are not running at all throughout this period.
Services from Sunday 5 April
Special timetables will be in place from Sunday 5 April, with an emphasis on early-morning bus services for key workers and essential travel.
The new timetable includes a temporary reduction in day-time and evening buses and a halt to night bus routes, reflecting the government's advice for people to limit their travel during this time.
You can find the special timetables for Mondays to Saturdays as a downloadable document or use the bus company's journey planner. Please remember to change the date for details about your specific journey.
This special timetable will be in place from Sunday 5 April until Thursday 9 April; it also applies on Saturday 11 April, and then from Tuesday 14 April and every Monday to Saturday until further notice.
Easter timetable
Sunday and bank holiday special timetables are now available. These will apply on Good Friday 10 April, Easter Sunday and Easter Monday.
To view the full timetables on these dates, visit www.buses.co.uk/services, then select the route number and then select the date and direction you wish to travel and select 'Update'.
Further information
As the continually changing situation evolves, the bus company are providing updates to customers via their website and email updates.
If a change in circumstances means that you want to freeze your travel or apply for a refund, contact the bus company's customer services team for assistance.