Study spaces now available in the Library for students and staff
By: Harvey Atkinson
Last updated: Friday, 24 July 2020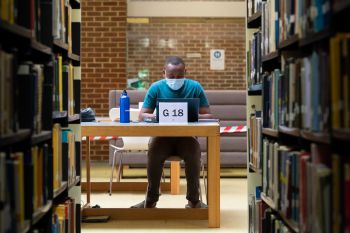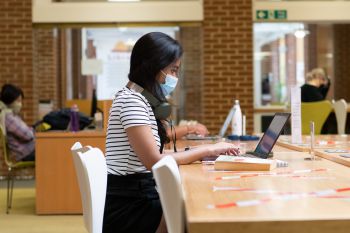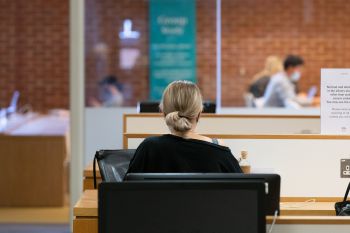 Since the start of lockdown, University Library staff have been working hard to provide an online service to enable students to access learning materials and research support to continue their studies.
We know that many students have been wanting to study in the library, but due to restrictions to mitigate COVID-19 infections this has not been possible. The good news is that now as restrictions are beginning to ease a limited amount of individual study spaces will be available to students and staff from the 20 July.
To ensure that this can be done within social distancing and health and safety guidelines to protect students and staff, up to 30 people at a time will be able will be able to study in individual study spaces in the Library building.
Jane Harvell, Director of Library Services said: "Library staff have worked incredibly hard since lockdown began to provide essential learning and research services to students and staff at Sussex. Over the last four months the team have managed thousands of enquiries remotely – all made possible thanks to their efforts to set up online services such as the Library Chat and our 'Click and Collect' functions accessed via our webpage.
"With lockdown restrictions beginning to ease, we're really pleased to offer students and staff bookable 'Click and Study' spaces. And over the next few weeks we hope to increase the amount of spaces available – all delivered whilst ensuring that students and staff health and safety remains our top priority."
Click and Study space time slots
These places can be booked for a whole morning session from 10.00 until 12.30, or an afternoon session from 1.30pm until 4pm.
The spaces will not be available during 12.30 to 1.30pm when they will be thoroughly cleaned.
How to book a study space
It's possible to book the spaces up to two weeks in advance, if you would like to book an individual study this video will show you how to book a space. To book a study space you must do so at least 24 hours in advance via Library Search, using the terms 'study space or desks'
To ensure that using the study spaces are as safe as possible for you and others, we are asking visitors to adhere to some simple practices:
When you enter the Library you will be asked to show your booking confirmation on your Library account. When entering the building and in the Library you must wear a face covering at all times.

The study spaces are to be used for individual, quiet study and are positioned to create a socially distanced safe study environment. Once you have been allocated a space you cannot move to another empty desk should it be free.
If you are booking a space and you want to read a particular book you must use the Click and Collect Services. Once you are in the Library if you want to access another book you can request this via the help desk.
The Library PCs and Chromebooks are currently not available, but you can bring your own laptop if you wish.
No food or drink can be consumed in the Library, with the exception of bottled water that you must bring with you – the water fountains, vending machines, lockers, printers and copiers are all out of use.
Toilet facilities will be available.
For further information please visit www.sussex.ac.uk/library/click-and-study.