Enjoy a free bike ride
Posted on behalf of: Transport
Last updated: Thursday, 3 September 2020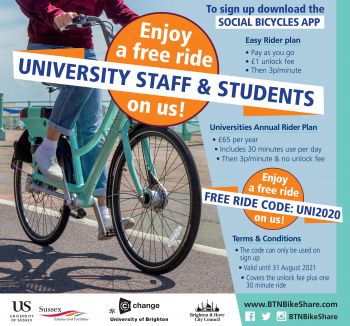 University of Sussex students and staff can start the new academic year with a 10% discount on the annual membership plan for BTN Bike Share.
This local bike share scheme gives students and staff a safe and socially distanced way to travel during the Coronavirus pandemic, without the expense of buying a bicycle.
The package for Sussex staff and students offers annual membership at the discounted rate of £65 (normal rate £72), which includes 30 minutes of use per day. Additional minutes are charged at 3p per minute and there is no unlocking fee.
James Brown, Transport Manager in Sussex Estates and Facilities (SEF), says: "This makes what is already a sustainable and economical way to travel to and from campus more affordable for staff and students and is a great example of the University working collaboratively with Brighton & Hove City Council for the benefit of staff and students."
The plan is available to anybody registering with a University of Sussex email address: to sign up, download the Social Bicycles (SoBi) app or online via www.btnbikeshare.com.
If you are unsure how often you will ride, the pay-as-you-go Easy Rider plan might suit you. Pay £1 to unlock a bike, then 3p per minute. You can of course cancel or upgrade to an annual membership whenever you want.
And new for this autumn, as a Sussex student or staff member you can enjoy a free ride. Sign up with BTN Bike Share with a University of Sussex email address before 31 August 2021 and enter the code UNI2020; this covers the unlock fee plus one 30-minute ride.
The Transport Manager adds: "The bikes could save you a lot of money on travel costs, and they could also improve your fitness and cut your carbon footprint."
See more information about cycling to and from campus.