Getting to the Sport Centre for a Covid-19 test
Posted on behalf of: University of Sussex
Last updated: Friday, 22 January 2021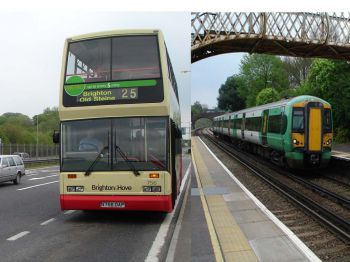 The University of Sussex is part of the Government's asymptomatic testing programme (i.e. for people showing no symptoms of Covid-19), taking place on campus during January and February.
Students and essential staff who need to be on campus can be tested up to twice a week until at least the middle of February. Regular testing should be carried out every 3-5 days and the highest recommended frequency is one test every three days.
There is no need to travel to campus specifically for a test. For regular testing, staff and students should make a booking for a day when they will be on campus anyway.
We've put together some information about accessing the Sport Centre for your tests. See also general guidance about local travel to campus.
Cycling to campus
Covered bicycle parking is available next to the Sport Centre.
If you don't own a bike, you can hire one from one of the two BTN BikeShare docking stations on campus. Sussex students and staff can enjoy a free ride [PDF] – sign up with BTN Bike Share and enter the code UNI2020; this covers the unlock fee plus one 30-minute ride.
Parking on campus for a test
Parking charges on campus are suspended during the national lockdown. The Sport Centre car park is currently closed, but car parking is available in other nearby car parks on campus.
Buses to campus
There is a bus stop on campus right opposite the Sport Centre.
Brighton & Hove Buses is communicating real-time information so you can check how busy your bus is before you travel.
The bus company has special measures in place to help keep you safe. It cleans its buses up to five times a day with hospital-grade cleaning products and has limited the capacity on its buses to support social distancing.
Try to avoid using cash on the bus. Students can get up to 25% off bus tickets with a mobile app or get a student key card from travel shops. The bus company's customer services team is available seven days a week to answer any questions.
Train travel to campus
For up-to-date train times, check the National Rail website. Southern Railway, which operates the trains to Falmer station, has special cleaning measures in place to help keep you safe.
If you are travelling by train, follow the recommended guidance, including:
consider travelling at quieter, off-peak times; see details of the busiest times
buy tickets online or use contactless payment if possible
wash your hands before and after you travel
carry hand sanitiser; there isn't hand sanitiser on trains or at all stations
wear a face covering at all points of your journey; download a travel support card if you are exempt
follow social distancing guidance at stations, on platforms and on trains.