Abandoned bikes to be removed from campus in August
Posted on behalf of: Transport Office
Last updated: Friday, 23 July 2021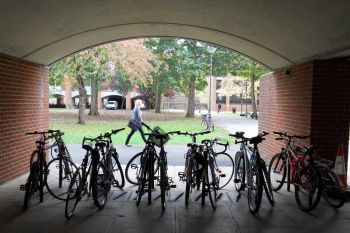 In preparation for the new academic year, we will be clearing a small number of abandoned bikes from campus, to ensure that our bike racks and other facilities are clear and available to use when students and staff return in September.
We will be tagging bikes identified as abandoned on bike racks across campus – if your bike is tagged and it has not been abandoned, simply remove the tag and we will not collect or re-tag it.
After Monday 9 August, we will remove from bike racks all bicycles tagged as abandoned and store them securely. Please be aware that we may need to destroy bike locks when relocating tagged, abandoned bikes.
If your bike has remained on campus for a long period of time, and you are unable to collect or un-tag your bike before Monday 9 August, please contact the Transport Office to let them know where your bike is and what it looks like, with as much detail as you can provide, so we can ensure it is not removed.
After being stored for approximately two and a half weeks, all unclaimed bikes will be disposed of from Monday 23 August.
More information about cycling on campus is available on the Transport website.