Your chance to win £5,000 in a prize draw
By: Harvey Atkinson
Last updated: Monday, 9 August 2021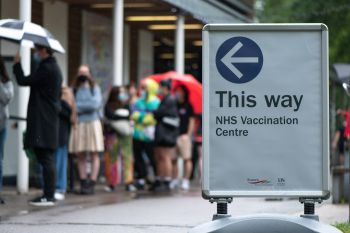 Today, 7 August, Student Communications wrote to all students announcing the launch of a vaccination prize draw. You can read the message in full below:
Dear students,

The University is encouraging all students to have both Covid-19 vaccinations as soon as possible, unless you can't for medical reasons. By doing this we'll be able to keep our campus community as safe as possible and reduce the disruption that the virus can bring to your time at Sussex.

As a big thank you to students who have received both vaccinations, the University is offering 10 x £5,000 cash prizes in a student prize draw.

Ten lucky students will be drawn at random on the 30 November 2021, and will then just need to provide evidence that they have received both vaccinations. The second vaccination would need to have been carried out by 7 December 2021.

The prize will be open to all students who are registered and who are attending a course in-person on the Falmer campus in the Autumn Term 2021.

Students in the UK can book their free Covid vaccination via the NHS web site. Students overseas should consult with their local health services and can also receive their vaccinations for free via the NHS on their return to the UK. Full information for all students about vaccinations can be found on the Student Hub.

Students who are unable to be vaccinated

We know that not everyone can have the Covid-19 vaccination due to medical reasons, and those students will still be able to have a chance to win one of the prizes by simply showing evidence that they are medically exempt.

Kelly Coate, Pro Vice-Chancellor for Education and Students said: "One of the best ways we can help keep each other safe from Covid is to be vaccinated: it helps protect us and those who aren't able to have the vaccine too. That's why the University is strongly encouraging as many students as possible to get both their vaccinations – and as a thank you we are pleased to offer a cash prize draw."

"The vaccine is proven to reduce the impact of Covid-19 and, whilst it's a personal decision, the more of us who are vaccinated, the less disruption there will be to our teaching, learning and social activities. Most importantly vaccinations save lives.
"Good luck in the prize draw!"

More information

Information about the Covid Vaccine can be found on the 'Vaccinations for Covid-19' Student Hub page and also on the NHS website.

You can find out more about the prize draw, terms and conditions on the Student Hub's 'Vaccinations for Covid-19' information page, including how your personal data will be processed and information on how to opt out of the prize draw.

Sussex students Malvina and Zachary have recorded this short video about the prize draw – just click on the image below:
Best wishes,
Student Communications