University of Sussex Business School shortlisted for Business School of the Year at THE Awards
By: Serena Mitchell
Last updated: Wednesday, 15 September 2021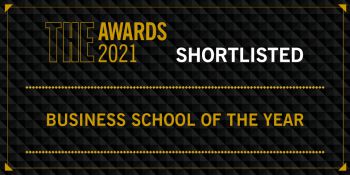 The University of Sussex Business School has been shortlisted for the prestigious 17th annual Times Higher Education (THE) Awards 2021 for Business School of the Year.
Known as the 'Oscars of higher education' this year's ceremony will take place on 25 November 2021 in central London.
Professor Steve McGuire, Dean of the Business School said: "I am delighted to have been shortlisted for Business School of the Year. Our focus is on driving innovation for social progress and our research is distinctive and interdisciplinary, impacting the greatest challenges facing government, industry and civil society – in energy, sustainability and innovation. We strive to continually play an important role in contributing to a future generation of highly skilled and socially responsible employees and managers."
The successful submission highlighted several achievements including:
Our impact on the Sustainable Development Goals –World Top 50 (Times Higher Education World Impact Rankings 2021).
Committing to the Principles for Responsible Management Education, we embed sustainability into everything we do and have launched Masters in Sustainable Development and Sustainable Finance and Accounting.
We are home to the Digital Futures of Work Research Centre, launched in 2020, to understand how technologies are reshaping work, impacting on employers, employees and governments.
THE editor John Gill said:
"This is the 17th year that the THE Awards will recognise the best of the best in UK higher education, across 20 categories covering all aspects of university activity. But this year's awards will reflect a period of turmoil and innovation necessitated by the pandemic, making it quite unlike any previous year.
With almost 600 institutions, teams and individuals nominated, it really is a fantastic achievement to make it onto this year's shortlist.
We look forward to celebrating the incredible response of university staff in exceptionally tough circumstances when we gather for the Oscars of higher education in November."