Sussex Photo Competition: Picturing a Pandemic
Posted on behalf of: School of Media, Arts and Humanities
Last updated: Friday, 26 November 2021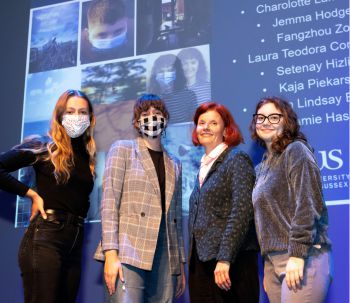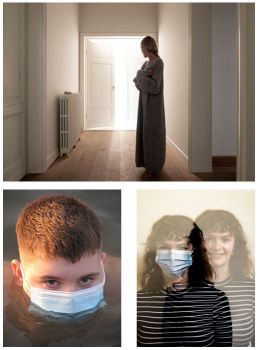 The Attenborough Centre for the Creative Arts (ACCA) and the International Office at the University of Sussex unveiled the ten finalists of the Picturing a Pandemic competition on Friday 12 November.
The competition, open to all new students starting in September 2021, asked students to capture life in the time of coronavirus, seeking images from across photography genres that encapsulated global experiences of the pandemic.
Prizes included a state-of-the-art camera and cash scholarships of £1000. The prize winners were announced by Bob Ahern, Director of Archive Photography for Getty Images.
Congratulations to the three prize winners:
1st Prize - Charlotte Lambrecht (Media Practice for Development and Social Change)
2nd Prize - Laura Teodora Constantin (LLB Law and Criminology)
3rd Prize - Caitlin Lindsay Epstein (Media Practice for Development and Social Change).
Charlotte Lambrecht described the meaning behind her photograph, stating that "The self-portrait is part of Ma/me; a personal project created during confinement together with Martine Stevens, mama. It is a performative act with the power of language to effect change. Photography implies a process of personal growth for Charlotte, a means to discover and identify oneself with the source of all of forms — nature. The collection shows two women merging with their surroundings and their sentiments; navigating emotional turbulence and communicating with silence in their quest for understanding."
Caitlin Lindsay Epstein said, "Since the start of the pandemic, I've found myself still smiling behind my mask, trying to express joy and kindness to others. I created this image for the competition to try and show that experience of showing emotions while wearing masks to slow the spread of COVID-19. The competition challenged me to come up with this concept and execute it using a multiple exposure technique."
Dr Monika Metykova, Associate Dean for Engagement, Recruitment and Marketing in the School of Media, Arts and Humanities, commented after the prize ceremony: "It was a privilege to be one of the judges for this competition and an absolute joy to present the prizes at the ceremony in the Attenborough Centre for the Creative Arts. Congratulations to all who submitted their photographs - they are moving, thoughtful and heartening testimonies to our lives in the pandemic."
You can view the brilliant virtual exhibition online until the 30 November.