Business School is finalist in THE Business School of the Year Award 2021
By: Serena Mitchell
Last updated: Friday, 26 November 2021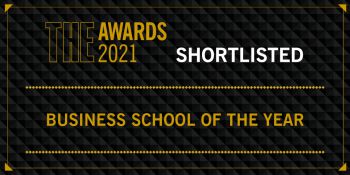 The awards were presented at a ceremony hosted by journalist and BBC news reader Emily Maitlis at London's Hilton Metropole Hotel. They recognize UK universities and their staff for exceptional teaching, research, student support, entrepreneurship, collaborations, and outreach. This year's awards reflected a period of turmoil and innovation necessitated by the pandemic.
Professor Steve McGuire, Dean of the Business School said: "We were delighted to reach the finals and I warmly congratulate School of Management, University of Bradford for being named Business School of the Year 2021.
"The judges recognised our focus on driving innovation for social progress and our distinctive and interdisciplinary research, which impacts the greatest challenges facing government, industry, and civil society – in energy, sustainability, and innovation. We strive to play an important role in contributing to a future generation of highly skilled and socially responsible employees and managers."
The panel recognised several of our achievements, including:
Our impact on the Sustainable Development Goals – World Top 50 (Times Higher Education World Impact Rankings 2021).

Committing to the Principles for Responsible Management Education, we embed sustainability into everything we do and have launched Masters in Sustainable Development and Sustainable Finance and Accounting.

We are home to the Digital Futures of Work Research Centre, launched in 2020, to understand how technologies are reshaping work, impacting on employers, employees, and governments.
Other Business School of the Year finalists were:
Aberystwyth Business School, Aberystwyth University
School of Business, University of Dundee

Imperial College Business School

Leeds University Business School